The coup of the Pheu Thai government has drawn condemnation from the international community. However, many people are failing to realize many inconvenient truths about the Thai coup that show why it is more justified than what someone like John Kerry may say. 
"This coup has no justification," said John Kerry in the aftermath of
Thailand's coup that ousted a Thaksin-backed government. "We call for an immediate return to civil rule and early elections." This came after months of insistence from the USA that Thailand stick to 'democratic principles' and hold elections that 'represent the will of the Thai people'.
I believe John Kerry may have forgotten that it was he himself who spoke very passionately about how elections do not necessarily lead to democracy. It comes as a sharp contrast with what the Western media has been saying about Thailand for the past six months, but the following passage was indeed said by Kerry:
A democracy is not defined solely by an election. You can have a democratically elected government, but you don't have democratically-instituted reforms that actually give you a democracy, a full, practicing, functioning democracy. And what you have in many places is a general election, a popular election, absent reform, present with great corruption, great cronyism and a huge distortion of democratic process.
At first glance, most observers of Thailand who did not know the context of this speech may have guessed that he was talking about the failure of electoral democracy in Thailand to form a democratic government dedicated to good governance. This is not the case. This speech was given in the aftermath of the ousting of Viktor Yanukovych, the Ukrainian President who became the target of protests after he backed out of an EU trade deal and instead went into the embrace of Vladimir Putin. Kerry was saying that the ousting of Yanukovych was perfectly justifiable because Ukraine was a flawed democracy where elections could truly represent the will of the people.
It is an inconvenient truth, then, that in Thailand there are also popular elections, 'absent reform, present with great corruption, great cronyism and a huge distortion of the democratic process.' The government of the Thaksin-handpicked Prime Ministers Yingluck Shinawatra and Niwatthamrong Boonsongpaisan was, similarly to Yanukovych's, ousted after months of massive, record-breaking protests from ordinary people who were simply fed up with the insane levels of corruption and undemocratic behavior of the Thaksin-backed governments.
Like Yanukovych, Yingluck won a democratic election at the ballot box- and then miserably failed to act in office in accordance with democratic principles. I have dealt with the innumerable failings of the Yingluck government in previous posts; major examples of undemocratic behavior that comes to mind include the usage of populist policies (ones that will break the country's budget, particularly) to buy votes from voters, rejection of checks and balances like the judiciary, or completely ignoring any voices of dissent in Parliament and ramming through unwanted legislature, like the Amnesty Bill, at 3 AM at night. As Kerry said, a democratically elected government doesn't always give you democracy.
The US Secretary of State suggested himself in his speech of 'reforms'. Thailand's military coup will allow exactly for reforms to take place, so that repeated failures of electoral democracy will not have to hinder Thailand's development. It is impressively hypocritical for Kerry to agree with the ousting of one democratically-elected leader because 'elections don't always lead to democracy', and then condemn another one as having 'no justification' despite the fact that the behavior of the two governments were not dissimilar.
Here's another quote from Kerry, this time from when he was commenting on the Egyptian military coup which ousted the country's first democratically elected leader, Mohammed Morsi:
The military was asked to intervene by millions and millions of people, all of whom were afraid of a descendance into chaos, into violence. And the military did not take over, to the best of our judgement – so far. To run the country, there's a civilian government. In effect, they were restoring democracy.
Here he absolutely refuses to call the Egyptian coup a coup; it had to happen because the country was descending into chaos and violence. Never mind that Mohammed Morsi was democratically elected; the military's act was effectively a 'restoration of democracy'.
The brazen hypocrisy of John Kerry is only illustrated further when we consider what has been Thailand's own descent into chaos and violence in the past few months. In the duration of the protests by the PDRC, which lasted from November to May, 28 people were killed and hundreds more wounded. Grenades were thrown into PDRC marches. Drive-by shootings happened around rally sites. Allied groups like NSPRT and a group led by the monk Buddha Issara experienced almost nightly bombings.  Add this with the prospect of a civil war that could possibly have tore apart the country. The increasingly belligerent behavior of the pro-Thaksin UDD red shirts meant that Thailand was verging on a bloody confrontation between pro-government and anti-government protesters. Meanwhile, the biased police force failed to keep order and dealt selectively, almost exclusively targeting anti-government protesters.  Thailand was on a downward spiral towards complete disorder.
To say there is no justification for Thailand's coup is, indeed, completely untrue.
And so it is another inconvenient truth that ever since the military-installed National Council for Peace and Order took power, all attacks have ceased. There were no more nightly bombings. The two protest groups were immediately ordered to return home, and so bloody confrontation was avoided. Peace returned to the country. In addition, the military has managed to make major arrests all across the country, detaining militants who have been stockpiling arms. Plots for a 'Khon
Kaen model' were discovered and averted, where major acts of terrorism would have been conducted in Khon Kaen and then repeated throughout the provinces.
The junta itself is showing itself to be governing competently- perhaps much more so than Yingluck ever was in the two years of her premiership. Her rice pledging scheme, which caused an estimated loss of $15 billion (which is why many say Thailand will not even notice the United States's suspension of a mere $10 million worth of military assistance), left many of the farmers in heavy debt due to the government being unable to pay the farmers. The junta has now paid most of the farmers.
Some of the policies of Yingluck's government can be said to possibly being beneficial towards the country. However, it is the way that Yingluck wanted them to be implemented that was corrupted. For example, plans for a dual-track train should have been completed long ago. A two page plan was presented for an insane 5 trillion baht infrastructure bill. The junta is now reviewing these plans and finding more transparent, efficient and affordable ways of implementing the infrastructure plans. Projects that had absolutely no use, like the unsuccessful One Tablet PC Per Child project which was solely a populist policy aimed at securing votes, not for any long term educational benefit, are now being scrapped.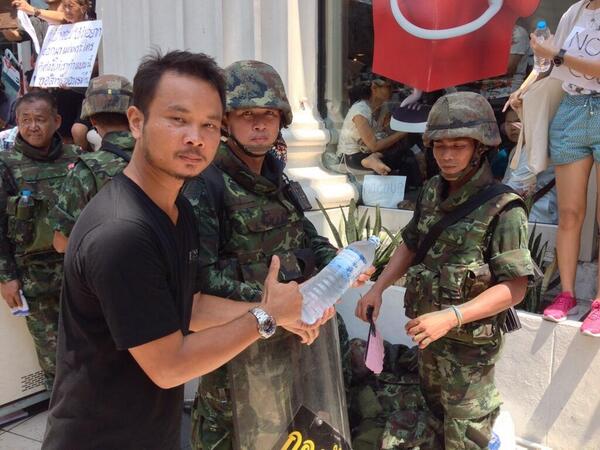 Finally, it is often said that a 'climate of fear' has swept through Thailand after the coup. Yes, it cannot be denied that freedom of expression is being curbed, and that the military is allowed to detain anyone without a warrant. There has been small anti-coup protests that have sprang up periodically in Bangkok to protest against this perceived oppression. But to say there is 'a climate of fear' is an exaggeration. The majority of the Thai population have not noticed any change in lifestyle after the coup, apart from a late-night curfew. Many, in fact, are in open support of the coup.
And so it must be said that for all the publicity that John Kerry's statements regarding Thailand and the coup has received, his statements can be shown as nothing more than hollow, hypocritical words. Ukraine and Egypt ousted their democratically elected leaders, but in both cases this would restore true democracy and preserve order. In Thailand, a coup must be immediately condemned. The USA easily ignores any appropriate justification of the coup.
It shows that either the United States has a severe lack of understanding of Thailand, or the USA has hidden, vested interests with the Thaksin regime that makes it feel so inclined to come to its defense. Both may be the case. Perhaps this is what makes the facts so 'inconvenient' for them. The point I will state again is this: for all the condemnation and negative statements about the coup from abroad, several 'inconvenient truths' exist, many of which foreign governments seem so happy to ignore. 
General Prayuth Chan-ocha, chief of the NCPO, has proposed that Thailand go through reconciliation and reform before holding a general election. The process may take a year before a return to democracy, but Thailand's political woes have existed for over a decade. A few weeks will not solve the problems, and an election right now will only return us to the 'great corruption, great cronyism and great distortion of the democratic process'. Let's hope that the junta will be able to lead the country through the difficult months that lie ahead.
-Ken