The start of college is often like a mysterious fog that suddenly rolls after the outset of summer break. As a high school student, I knew so much about my side of things- the sad, uninspiring life of the sleepless high school student who spends hours making SAT flashcards- but knew so little about what being at university is actually like. Of course, that's simply logical; you can't really know much about events you haven't experienced (or can you….what way of knowing is that? #IBalumnirepresent). But I also think that it would be fun to just document my experience in college, not just as a way for me to reflect on my own thoughts, but also to let people who haven't got here yet have some of an idea of what to expect. I'm aware that this is going to be a bit of a shift in tone for my blog, and once again there are so many important political events going on I really need to get back to writing about politics soon, but I also feel that this is an important thing to do, so here we go!
I landed in the United States about a week ago, right into both the figurative mist of new beginnings and the literal fog that constantly envelopes the Bay Area. I've never been in the United States before, and thankfully I slept through most of the long flight from Bangkok. (I also spent a fair bit of time reading Being Nixon: A Man Divided, a great history book which I will need to discuss someday).
This is the first year that UC Berkeley has decided to do a full, 8-day orientation week called Golden Bear Orientation. As I write these words, GBO is still not over, and the only reason that I've managed to find time to crank out this post is by skipping over more cards in the dorm lounge and instead just sitting down to write  (oh, the discipline of a writer…). GBO has been extremely busy to say the least, with events starting in the morning at approximately 9 and stretching to sometimes 10 or 11 in the evening. It's super-packed, but I'd like to talk about just a few things that stood out to me.
1. Exploring Campus & the Bay Area
I spent the first few days since getting to the US exploring the Bay Area and the Berkeley campus. . My first impression is that each of the cities are small, which I guess is what happens when you're more used to the metropolises of East Asia, but San Francisco was surprisingly compact. It is a beautiful city however with great architecture, and of course I visited many of the touristy hotspots (Golden Gate bridge, anyone)?
Funnily enough, although I stayed quite near Union Square, I've probably spent more time in Oakland
than San Francisco itself. It does get a little sketchy in Oakland sometimes, but overall I think with some streets smarts you would be fine to enjoy the city. It has an interesting Chinatown (with some excellent dimsum). I've gotten to walk around the waterfront and Lake Merritt. I also got to visit a lovely town named Sausalito, which is right across the bay from San Francisco. It doesn't seem to be frequented by tourists, which makes it even better, because there's a lot of space to see the beautiful view of the bay and SF.
Most importantly, of course, is the city of Berkeley itself. Both before and after moving in to the dorms, I've gotten to sightsee a little bit both in the city and in the campus. Berkeley the city is best described as a college town, although greater Berkeley beyond downtown certainly has economic activity that revolves around more than its transient population as well. I've heard a lot about how Berkeley can seem a little grungy, but I honestly think that it looks like a lovely little town. Of course, homelessness is an issue, the crime rate is not great and there are some areas that can seem questionable but just like in Oakland, a little common sense will get you a long way.
The campus itself is massive. UC Berkeley's most famous landmark is its imposing clocktower, the Campanile, and Sather Gate, the front of which is Sproul Plaza where protests happen on an almost daily basis. Walking around all of this really does tire out my legs, however, and I still can't get around without Google Maps. But then I do get four years to explore…
2. Convocation
I think that convocation is supposed to feel special. It's like a ceremony that marks a new start to your life, one that formally completes your transition from high school to university. At the very least, I wanted it to feel special, and I'm super happy that it did turn out like that for me.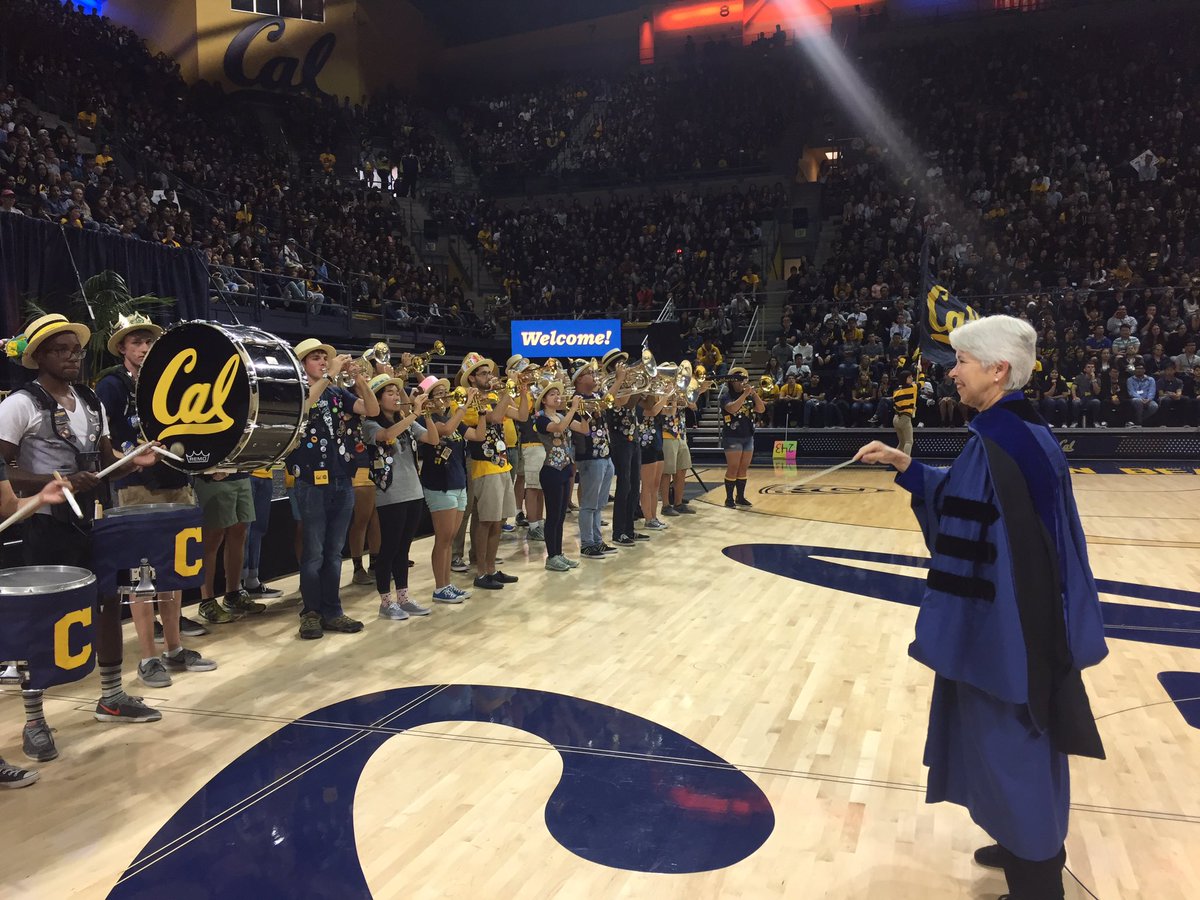 What was impressive to me, in particular, was the speech by UC Berkeley's newly appointed chancellor Carol Christ. As a lot of people know, Berkeley has recently been under immense pressure; although it was the home of the free speech movement, the riots that resulted from the invitation of right-wing speakers to the campus have sparked a lot of talk about how the students were crushing dissenting opinions and even led to President Trump threatening on Twitter that he would deprive the campus of federal funds. (Of course, he doesn't actually have the power to do that).
In the aftermath of these events, Chancellor Christ said:
Particularly now, it is critical for the Berkeley community to protect this right; it is who we are. That protection involves not just defending your right to speak, or the right of those you agree with, but also defending the right to speak by those you disagree with, even of those whose views you find abhorrent…You have the right to expect the university to keep you physically safe, but we would be providing you less of an education, preparing you less well for the world after you graduate, if we tried to protect you from ideas that you may find wrong, even noxious.
This was not a topic I was expecting from the Chancellor's speech, but I'm very glad that she took the time to take on this controversy head-on. I fully agree with her sentiment that the best response to hate speech is more speech: that if we truly believe in our ideas, then they can win through their own logical virtue and not require extra assistance in the form of shouting down arguments. It's also amazing to be living through history being made, at a point where the university is taking a firm line on continuing its proud tradition of free speech. Overall, I thought Christ gave a fantastic, inspiring speech.
3. Diversity
'Bear Territory' is the name of the compulsory diversity training that Berkeley made all students attend. At first, I wasn't terribly looking forward to the event (you have to admit it sounds boring), but I'm glad that I got to see it.
The most interesting part of the event was when, in Haas Pavillon, a huge stadium with around ten thousand students, people were asked to stand up to signify things as prompted. When asked whether they had at least one parent who was not from the United States, it was amazing to see almost the entire stadium stand up. In the light of the events at Charlottesville, you can really see the contrast between the more conservative and the more progressive parts of the US. In fact, UC Berkeley takes diversity to quite a new level: the Class of 2021 is actually 40% Asian and only 29% white (some have commented that it looks a little bit more like Hong Kong!)
What was also touching was seeing how many students are first-generation college students. I think that coming from a rather well-off international school, we often take it for granted that we will go to college, because that's what everyone's parents did and what everyone is planning to do. It's easy to forget that higher education is still very much more of a privilege than a right, and it's great to see the doors to opportunity open up for so many others.
* * *
So these are just some of my first impressions and thoughts about UC Berkeley. It's still a very busy time doing new things, meeting new friends, and going to new places, so I'm sure I'll have a lot more to share over the coming weeks and months. Thanks for reading, and see you around!