Yesterday, I had the chance to listen to California state treasurer John Chiang at a lecture sponsored by the Berkeley Forum and the Goldman School of Public Policy. At first, I had debated whether or not I should go; I love politics and public policy, but just after moving here, I knew little about California's state politics or the 2018 gubernatorial race. In the end, though, I decided that this would be a great place to start learning. So, after two hours of an astronomy lecture, I grabbed a quick bite at Artichokes' pizza and ran over to UC Berkeley's Alumni House. I found the event interesting enough that I decided to write a quick blog post with my three main takeaways: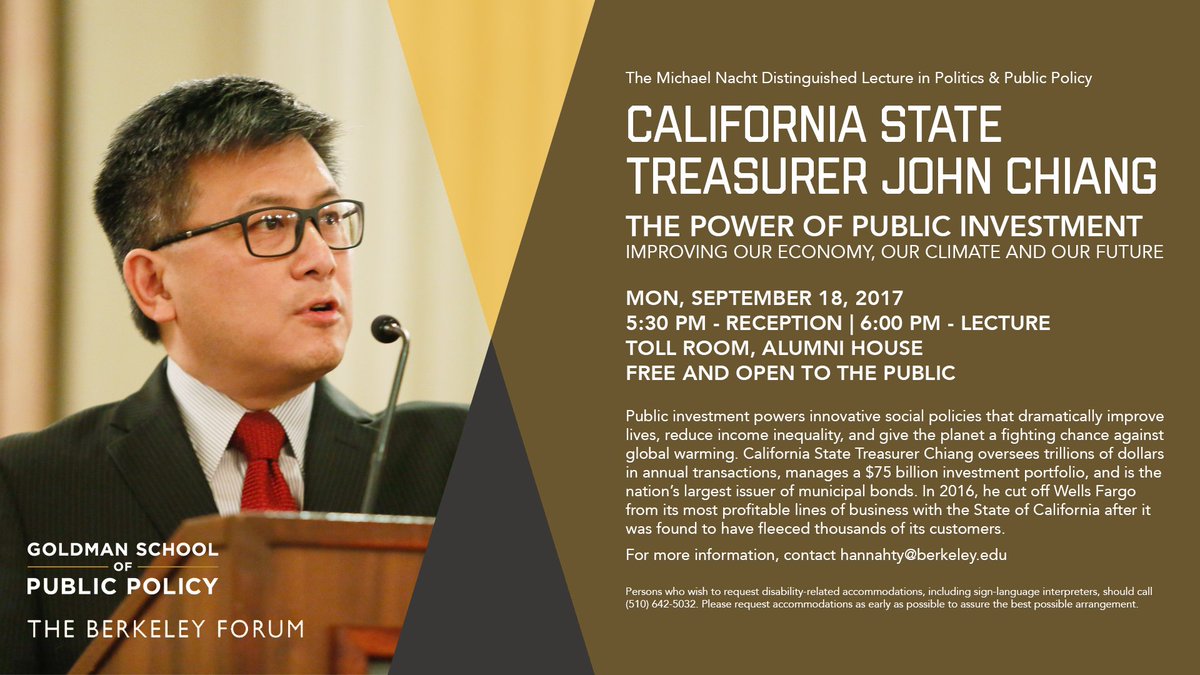 1. Chiang understands the issues facing California (and its students) 
"Policy wonk" was how Treasurer Chiang was introduced at the lecture. At first, I had to admit that I was a little skeptical of the term. A lot of politicians like to be called policy wonks, but at times the facade falls apart under scrutiny (Paul Ryan, anyone)? After listening to Chiang's lecture, however, it is clear that he doesn't simply play a policy wonk on TV: he actually is one. His answers to specific questions were usually detailed and thoughtful, and he had a strong command of important statistics and policy solutions to the various ills plaguing California. For example, he was insightful when he discussed infrastructure investment- a relief compared to Donald Trump's skeletal "infrastructure plan".
Chiang's main vision as a prospective governor with a background in state finance, is to use sound fiscal policy to tackle the most important challenges facing the world today, namely climate change, income inequality and improve quality of life. This is hugely important; California is America's most populous state, and with leadership from Washington D.C absent in the fight against global warming and against income inequality, it is imperative that progressive leaders in California pick up the reins instead. Chiang recognises this, and he made it clear that Californians must stand up to challenge Washington where necessary. It would have been interesting, however, if Chiang could have gone into more detail about how he intends to combat climate change: will he build on Governor Jerry Brown's cap-and-trade legacy, or does he have alternative policies that he could propose?
Also interesting was Chiang's discussion of student-related issues.Last week, I attended a speech by California Rep. Barbara Lee at UC Berkeley on lack of housing and food insecurity for Berkeley students. It was also discussed at the town hall that Sacramento poses an obstacle in securing affordable student housing. With this in mind, it was good to see Chiang recognise basic needs as the most pressing issue facing students statewide in California.
2. Progressivism must be pragmatic
Chiang, like many Democrats on the west coast, is a progressive. What distinguishes him, however, is that he is also a pragmatist. During his lecture, Chiang heavily emphasised his credentials as a fiscally responsible treasurer who secured appropriate public investment, was able to lead California through the financial crisis and stood up to both public and private corruption. He made it clear that as governor, he intends to combine both fiscal responsibility and a progressive vision: a welcome combination.
With this in mind, I think that Chiang has, intentionally or not, managed to place himself at the intersection of the Hillary Clinton and Bernie Sanders wings of the Democratic party. The fact that Chiang stood up against Wells Fargo can endear him to the progressive wing by proving that he is in tune with one of Sanders' key issues: standing up to the financial sector. Should he place himself leftward enough, it would not be difficult to be in sync with Sanders supporters on a variety of other issues.
On the other hand, Chiang's fiscal responsibility that tempers and moderates his progressive ideas also make him more appealing to Clinton supporters who still do not believe that ideas that Bernie Sanders proposed are workable in its fullest extent. I was particularly intrigued when Chiang was asked about his thoughts on free UC tuition. It would be easy to imagine Sanders immediately calling for UCs, as public universities, to immediately eliminate tuition fees; it's also the easy thing to say to earn votes in a college town. But Chiang instead launched an explanation of how this would not yet be possible, and reduced tuition must instead be approached incrementally, starting with community colleges.
3. Chiang's impact on the gubernatorial race is still in doubt 
Despite the solid ideas that Chiang proposes and his excellent record, however, after yesterday's lecture I have to admit that I am in doubt about how big an impact his candidacy will make on the gubernatorial race. Polls reveal that Lt. Gov Gavin Newsom has a sizeable lead in the race, although many voters are undecided. Chiang, according to the UC Berkeley poll, is in 5th place.
A major obstacle for Chiang is his technocratic image. While his candidacy exudes competence, it is difficult to see voters feeling inspired by the theme of fiscal responsibility coupled with a progressive vision. As yesterday's moderator said, it simply isn't "sexy" to be good at managing state finances. And when asked on whether he had a slogan, Chiang's answer was not inspiring; he said that he was running based on the theme of trust, and that his campaign slogan was "a different road for California". This is all very well, but in the era of "Make America Great Again", I think that it might be fatal to Chiang's candidacy if he is unable to provide an image that goes beyond competence and financial responsibility. It is a flaw of democracy indeed that voters are influenced less by policy details and more by slick marketing, but it is something that all political candidates have to work with.
What, though, could be a more inspiring message for Chiang? I've spent a little bit of time thinking about this. "Pragmatic progressivism" seems to be something that describes Chiang well. It allows him to bridge the gap between the centre and the left within his own party, permits him to touch on two cornerstones of his candidacy (fiscal responsibility, a new vision for California) and is easily memorable (although does perhaps have a bit of an echo to Ted Cruz's 'Courageous Conservatives' line from the 2016 election). The gubernatorial race still has a long way to go, and there's still time for a major upset. Who knows: perhaps California will indeed elect a technocratic treasurer running as a pragmatic progressive for governor.