It is common to refer to the President of the United States as the most powerful man in the world. This, after all, is not unreasonable; the United States since the end of the Cold War has been the undisputed leader of a unipolar world, possessing the greatest wealth and military muscle the world has ever known. On paper, this remains the same in the era of President Trump;  the US economy is still the biggest in the world, and the armed forces of the United States would conceivably best any other nation in a conflict. US hard power has not diminished since the 2016 election.
As Donald Trump traveled around Asia this past week, however, it is worth wondering whether or not the label of the world's most powerful man is a good descriptor for him. The pomp and theatre was there, of course, as countries big and small, knowing that the best way to start a good relationship with Trump is to flatter him, welcomed him with pompous ceremonies. Japanese prime minister Shinzo Abe buddied up with Trump and took him on a golfing trip, South Korea's national assembly introduced him as 'Leader of the World', and Trump was given a rare personal tour of the Forbidden City by Xi Jinping. Beyond the noisy welcome, however, Trump may be a paper tiger on the international stage. Trump, easily flattered, heartily thanked his hosts in each country and tweeted much praise for Xi; little was offered in return and Trump won little in the way of concessions. As the South China Morning Post writes:
Far from highlighting America's leadership in the region, the visit accentuated China's emergence as the alternative pillar of prosperity and stability in the world's most dynamic geopolitical theatre. Trump embarked on his Asia trip to assert American centrality in global affairs, but left Beijing as a humbled leader of a declining superpower.
The inadequacies of a Trump administration foreign policy has long been known even before he was elected; 'America First' was unlikely to fly well with America's global network of alliances, and the president's ignorance of the affairs of the world around him is well documented (this, after all, was the man who reportedly remarked "I never knew there were so many countries in this world!" after world leaders began calling him to congratulate him on his election victory). But the president on his first major foreign trip in Asia has illustrated even clearer his shortcomings in power politics.
One reason, although not a result of his foreign policy decisions, is Trump's domestic standing compared to his Chinese counterpart, Xi Jinping. As the Russia scandal continues to grow, with Mueller's first indictments, Trump's approval ratings have continued falling despite already being at the lowest of a first-term president at this point in time in history. He lacks legislative accomplishments and most of his policy initiatives have gotten nowhere. By contrast, Xi is now China's most powerful leader since Chairman Mao. Earlier, he was named China's 'core' leader. A successful party congress has resulted in 'Xi Jinping Thought on Socialism with Chinese Characteristics' being enshrined in the Chinese constitution as a key ideology of the Communist Party; even 'Deng Xiaoping Theory' was not added until after Deng's death. The congress revealed no possible successors to Xi, hinting that he may choose to defy recent tradition and stay on longer than two terms. Whereas Trump has become a lame duck in his first year in office, Xi is more dominant than ever.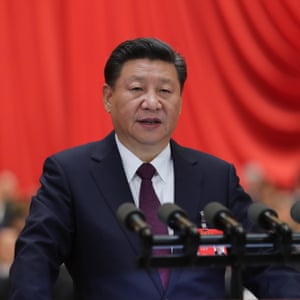 Second, however, is the differing degrees of enticement in which their competing visions for the global world order that the two presidents have offered. Trump and Xi are both nationalists, but whereas Trump's narrow, closed-minded nationalism looks inward and calls for the digging of moats, Xi perceives an opportunity for the "great rejuvenation of the Chinese nation" that involves the projection of Chinese power abroad. This, obviously, would require the boosting of the Chinese armed forces, but Xi has also invested heavily in China's soft power, such as through the One Belt One Road initiative. The world had seemed to already turn upside down in January, when Xi warned in his speech in Davos against countries blindly pursuing their national interest (a jibe at Trump, perhaps), criticised protectionism and defended free trade while Trump pledged in his inauguration speech that "from this moment on, it's going to be America First". But the contrast was even clearer this week, when Trump and Xi spoke at the APEC summit in Vietnam. There, Trump ranted about trade deficits, while Xi championed globalisation, innovation and environmentalism. In the end, in having to choose between Trump's transactional America First principle and Xi's more inclusive Chinese Dream, it is not difficult to see which route many countries will go.
So what does this mean? Most significant is the definite re-emergence of multipolarity. Never in recent history has China been so powerful, and America so weak, even if just as a result of an incompetent American president. Still, Xi has plenty of time to consolidate and expand China's power in both the Asia Pacific and beyond while Trump is distracted by his own domestic troubles and America lacks any coherent vision for foreign policy beyond correcting trade deficits. Take Southeast Asia, for example: countries are now pushing ahead with a re-defined Trans Pacific Partnership after Trump pulled the United States out, while China continues making massive investments in the region. Everywhere, from climate change to trade, Chinese leadership is visible and American leadership is missing. The image is unmistakable: one of a declining America quickly becoming eclipsed by a rising China.
In addition, in the long term, this lack of American leadership also leads to the emergence and consolidation of alternative political systems. Xi was clear, both in his speech at the APEC summit and at the Communist Party congress, that he does not intend to emulate western-style liberal democracy, and sees the Chinese political system as equally valid. He was clear when he said that China "offers a new option for other countries and nations who want to speed up their development while preserving their independence". And indeed, as Trump stands silent on human rights and democracy, speedy authoritarianism is the path that many countries will wish to pursue.
In 1972, Richard Nixon visited an impoverished China as the leader of the free world, eventually leading to the opening up of the country. In 2017, the tides has changed indeed, as the Chinese president stands stall in the international world order while the American president fumbles with protectionism. Indeed, Donald Trump may still be most powerful man in the world. But Xi Jinping is no distant second, and he continues to move forward every day.