This post is the second post in the series 'Thailand in Crisis', covering the political history of Thailand in the 21st century. You can see the rest of the project here.
At a seminar at Harvard University, Abhisit Vejjajiva recalled telling then-Prime Minister Chuan Leekpai that he could not think of a time a government working with the IMF had won re-election.
"That's okay", Chuan had replied. "You are still young."
It was warranted for the top leaders of the Democrat Party to espouse such pessimism. The Democrats, coming to power with a singular mission to pull Thailand back from the brink after the Asian financial crisis, had sustained a massive loss in popularity through its disciplined implementation of the IMF's "bitter medicine". There was little reason to believe that the Democrats could win the next general election, scheduled for 2001, but the question remained: if not the Democrats, then who?
Enter Thaksin Shinawatra. The former deputy prime minister had spent the years of Chuan's second premiership out of elected office, focusing on expanding his business interests and building up a network of political patronage by bailing out senior military figures after the financial crisis. But Thaksin was hardly content to end his political career there. Perhaps Thaksin realized that his wealth and connections were not enough to establish his own power base, or that continuing to work on the behalf of incompetent prime ministers was not a promising route to continued political success.
Thaksin decided to establish his own party, the Thai Rak Thai party (TRT) in 1998. It is unclear whether Thaksin realized the potential of his own party at the start; shortly after founding, a co-founder remarked that the best case scenario was for TRT to win enough seats to be a mid-sized party. This proved to be an extremely conservative prediction. By 2000, TRT had exploded onto the political scene and immediately captured the public imagination, entering the election campaign in a position of strength.
How did it do so?
Firstly, Thaksin succeeded in building an immense political network. Thaksin recruited a large number of new faces to TRT, allowing him to plausibly claim that TRT was not your typical Thai party and instead represented a new vision and new path for the country. He also exploited the factious nature of other parties to recruit a large number of winning 'old-style' candidates from other parties, however, who were attracted to the prospects of accessing the wealth and resources of TRT. Never mind that this contradicted Thaksin's attempt to burnish his party with a clean, new image; these old-style politicians, Thaksin claimed, were necessary in a "transition period" to a new Thailand. In the end, TRT became the overarching brand for a large number of political factions that joined together under Thaksin's banner. This did not obstruct Thaksin, however, as he exercised unopposed financial and executive control over the TRT.
Thaksin's resources were virtually unlimited; his personal wealth was immense, and he was supported by a number of large corporate groups. This not only allowed Thaksin to make compelling offers to "buy" promising candidates from other parties, but also meant he could overpower his Democrat opponents in vote-canvassing in rural areas and spending money to woo voters. The Washington Post noted early in 2001:
…polls show him and his Thai Rak Thai party with far greater support than incumbent Prime Minister Chuan Leekpai's Democrat Party. Thaksin spent huge sums of money over the past two years to build up his party, wooing politicians from rival parties, blitzing the airwaves with ads and courting independent voters. The party has given truckloads of food and clothing to villagers, but Thaksin says the gifts were legal because they were handed out before the election date was set.
In other words, TRT (much like many other parties) were engaged in Thailand's traditional methods of electioneering: vote buying and rural patronage. Many candidates were yellow-carded by the Electoral Commission for this practice.
But money politics was not the only method that Thaksin used, for TRT was also innovative in its approach to campaigning. Bringing his business acumen to bear, TRT heavily used polling and sophisticated marketing techniques especially to reach urban voters, something largely previously unseen in Thai politics. Campaign promises were clearly outlined on 3-point posters at every street corner. Thaksin, as party leader, was highlighted to a degree uncommon in Thai politics, his image gracing every election poster and his compelling story as a successful businessman ready to give Thailand strong leadership relentlessly propagated.
Most important, however, was the TRT platform itself. Thaksin seemed to appeal to everyone. In what some has termed 'pluto-populism', Thaksin espoused government by the rich, for the rich; as a successful businessman (no one mentions the fact that he became rich through government concessions), Thaksin would be able to protect Thailand's businesses from the continued ravages of the IMF and to restart economic growth. Dhanin Cheavaranont, one of Thailand's richest men, declared that "This is an age of economic war. It's crucial that we have a prime minister who understands business and the economy". The Economist described his appeal:
Mr Thaksin, who likes to swan around Bangkok in a bronze-coloured Porsche, is a bit of an icon to poor Thais. From a humble family himself, via a period in the police followed by a spell selling IBM computers to his former colleagues in the force and another profiting from a highly lucrative mobile-phone monopoly, his billions are a big part of his popular appeal. If he can make so much money for himself, incant his sloganeers, think what he can do for you. No one, it seems, worries that the main source of Mr Thaksin's wealth is precisely the sort of cosy arrangement that Thailand needs to get rid of.
Paradoxically, however, Thaksin was at once both business friendly and a populist. He was not an ideologue; pragmatic to the core, he saw the need to devise policies that would appeal to the masses regardless of political belief. His policies came to be dubbed as prachaniyom ("popular with the people") TRT campaigned on four highly appealing core populist policies. First were village funds- one million baht would be given to each of Thailand's 70,000 village to promote economic diversification. Second was virtually free universal healthcare- "30 baht to care for any disease". Third was a three-year debt moratorium for poor farmers. The last was the formation of a national asset management company. This policy package, to the eyes of voters, was virtually irresistible. Critics complained about fiscal indiscipline; Thaksin did not care.
Finally, Thaksin was aided by larger political and economic trends. The new 1997 constitution, first and foremost, was beneficial to Thaksin as it facilitated the formation of strong governments that did not have to rely on shaky coalitions. Economically, two explanations exist for the growth of Thaksin's popularity. From a larger perspective, Thailand's sustained economic growth over the latter half of the 20th century had created an increasingly prosperous rural and lower middle class that desired political enfranchisement, long denied to them by Bangkok-dominated politics.
Another perspective is that the Asian financial crisis was critical to Thaksin's success. A study later showed that support for Thaksin's populism in each region was correlated to its rise in absolute poverty after the Asian financial crisis, except in the southern region which was a Democrat stronghold; between 1996 and 1999, the number of those below the poverty line had risen by 3 million. Rising inequality fueled social discontent as the gap between rich and poor widened. The rural poor became increasingly resentful of the urban rich. Ironically, a billionaire businessman was the first to recognize the political potential of courting the provincial masses in the north and east and became the symbol of the poor's hopes and dreams.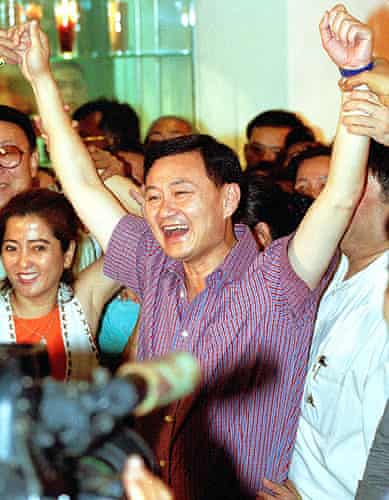 In the end, every factor seemed to be in Thaksin's favor. The Democrats, accused by the TRT of "selling the country to foreigners", stood no chance of stopping Thailand's newest political juggernaut. The general election, held on January 6, 2001, resulted in TRT winning 248 out of 500 seats, followed by the Democrats with only 128 seats. Chavalit Yongchaiyudh's New Aspiration party, which won 36 seats, merged into the TRT after the election, but Thaksin chose to form a coalition with Banharn Silpa-archa's Chart Thai party anyway. The government had a majority. Thaksin was now prime minister. The Democrats, now in opposition, did not even have enough seats to launch a no-confidence vote.
Thaksin's takeover of Thailand was swift and complete. He would no longer have to play second fiddle to a second-rate prime minister. He was premier in his own right.
In one of his first statements as prime minister, Thaksin said:
The next four years will be a time of changes, of reforms in all fields, so as to free Thailand from its crisis and build a base for the future of our children…I will not be just a legally elected leader, I will be a leader who will bring changes to Thailand, to make it a better Thailand.
And so began Thaksin's premiership.